Stone Material Makes for a Stunning Landscape
Since 1964 Garrity Stone, Inc. has supplied Indianapolis with natural stone material for home and commercial landscaping projects. Bring us your project ideas, and we'll find the right product for the job on our 4-acre lot. We'll even let you know if we think there's a cheaper alternative. As specialists in natural stone, we don't carry any manmade materials. Call today at (317) 546-0893 for more information about us or to schedule pickup or delivery.
Hardscaping with Stone
When it comes to landscaping, stone can make a bold statement or it can blend seamlessly into the background. Its versatility is hard to beat: Stone complements wood and composite products and can easily integrate into your current landscape, since it's available in a wide variety of colors and sizes. Our ruble products are perfect for veneering a side of a home or edging your landscape. Take some time to peruse our inventory.
You'll find stone for any type of use including fireplaces, countertops, patios, retaining walls, and fountains, just to name a few things. We offer free quotes and consultations at our Indianapolis location, and our team can help you locate a contractor if needed.
Need Assistance with Natural Stone Materials?
Contact Us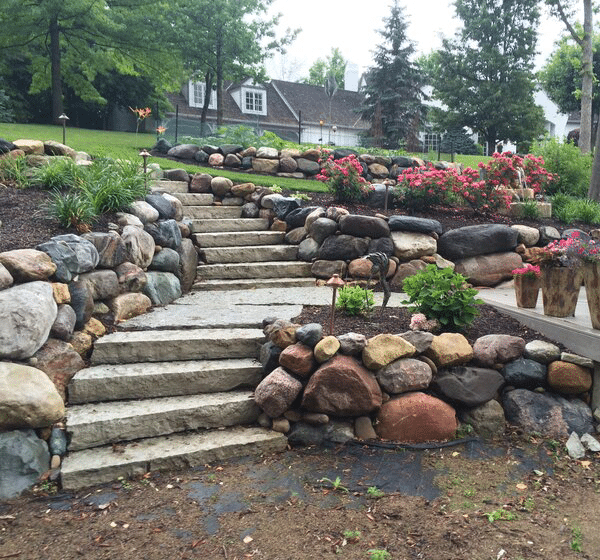 A Variety of Stone Material
At Garrity Stone, Inc., we pride ourselves on providing quality customer service. Natural stone is an inexpensive way to spruce up a yard, and homeowners are also using it as a focal point indoors. An Indiana fixture since 1964, our family-owned business serves all of Indiana including Fishers, Zionsville, Carmel, Geist, Broad Ripple, and all nearby areas. Contact us at our Indianapolis location at (317) 546-0893 for information about our inventory and convenient delivery — including out-of-state options.